Useful Information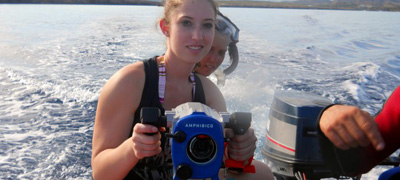 Directed at
If you are interested in learning about underwater archaeology, the techniques and methodology used and classifaction of archaeological material as well as learning elements of filming editing and video production, then this is course is a good option for you.
The combination of underwater archaeology and creating a video documentary related to the research being conducted allows participants to learn how to communicate and present their research, be it university research or, personal projects with the tools that are more frequently used on line.
The program focuses on the research of a Roman port focusing on locating shipwrecks, amphorae and anchors in order to get a better understanding of the maritime history of the area. During the first part of the course, participants will learn underwater techniques and methodology during dives in the port. During the second part of the course, participants will use the experience from the first part of the course to create a script for a documentarily focused on underwater archaeology following the guidance of an expert.
You will have the opportunity to learn how to film underwater with a high quality professional camera in order to film live footage on the of the underwater archaeology research being conducted that you form part of.
The water is very clear in Menorca, with an astonishing visibility…often up to 18 to 20 meters. The water is calm and mild in temperature and currant, allowing for excellent diving conditions in a natural and pristine Mediterranean atmosphere.
Previous knowledge or experience in archaeology or computer systems is not required.

Field School life & language
The course runs six hours per day. The day will be divided between diving in the Roman Port of Sanitja, lab work, exercises, lectures, videos and excursions. The course is taught in English and Spanish.
After the diving portion of the course, participants will then take video footage of archaeologists while working and process the digital documentation in order to create an underwater archaeological documentary film.
Participants will also be given lectures on methodology regarding film productions, movie trailers and some examples of films about Archaeology.
Participants will also visit archaeological sites on the island through organized excursions. Courses are given in both English and Spanish. For every seven course days there are two days off.

Options

To participate in diving activities, it is necessary to have a diving certificate that will allow you to dive up to 18 meters in depth. For this reason, we have designed two groups to choose from: with or without a diving certificate.
Group 1. Without a diving certificate: Those that do not have their diving certificate should choose this group.
Group 2. With certificate: Those that have a diving certificate from an internationally recognized organization (i.e. PADI), should choose this group.
Medical check
On the first day of the course, participants have to show a medical document stating that he/she is fit for diving activities. Participants that do not have this document on the first day will not be allowed to participate until they are able to present this document.
Equipment needed
We encourage participants to bring their own dive gear, however, a complete set of diving equipment (with the exception of mask and snorkel which each participant must bring) can be rented at the reduced cost of 18 Euros per day.

Certificates
At the end of the Field program, students will receive a certificate of participation stating the hours and activities of the course. Participants that perform exceedingly well in the course may receive a letter of recommendation from our organization upon request.
---
Sanisera Archaeology Institute
Do you need help?

In Sanisera Archaeology Institute we will help you choose the best field program for you. Fill in our advice form without any obligation. In less than 48 hours we will contact you


Why choose us?


10 reasons to participate in our international summer courses.