Useful Information
Directed at
If you have not previously participated as a volunteer in a field school and would like to experiment and gain knowledge with different excavation techniques and methodology during 16 days in two distinctly different sites, this course would be a good option for you.
It's difficult to find a course that allows you to explore both biological anthropology and archaeology where you can gain experience and knowledge in both excavating tombs with human remains and techniques used in excavating Roman structures.
You will experiment in both archaeology and biological anthropology, two areas with many similarities, but also many differences when excavating and treating recovered archaeological material in the laboratory.
At the end of this program you will have experience in both areas and will be able to better decide what path is best for you; biological anthropology or archaeology.
Both of the excavation sites are located on the south coast of the island, surrounded by the sea and pristine and dramatic Mediterranean landscapes. 

Previous knowledge or experience in archaeology or computer systems is not required.

Field School life & language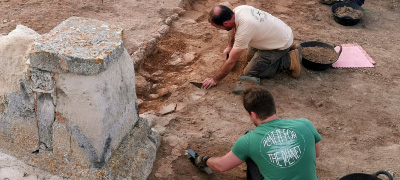 Participants will also be given lectures on methodology, Roman archaeology, Biological anthropology and classification of archaeological materials. For every seven course days there are two days off.


The course is taught in English.

Certificates
At the end of the Field Program, students will receive a certificate of participation stating the hours and activities of the course.
Participants that perform exceedingly well in the course may receive a letter of recommendation from our organization upon request.
---
Sanisera Archaeology Institute
Do you need help?

In Sanisera Archaeology Institute we will help you choose the best field program for you. Fill in our advice form without any obligation. In less than 48 hours we will contact you


Why choose us?


10 reasons to participate in our international summer courses.