Useful Information

Directed at
Anyone, from any age or background, who wish to know more about the perks and quirks of archaeology. You do not need to have any previous experience in archaeology through excavation fieldwork nor through academic attendance.
This online course was designed to anyone who wishes to know more about the history and theory of archaeology, and its importance for everyone's future. To anyone who would like to know how to do archaeology in its own country, and what different types of archaeologies exist.
To those ones currently studying archaeology at university, this online course may also facilitate the learning process of its major philosophical frameworks. These thematics are often only briefly approached at university, but are fundamental for any archaeological study you intend to do in the future. They will enhance your research performance.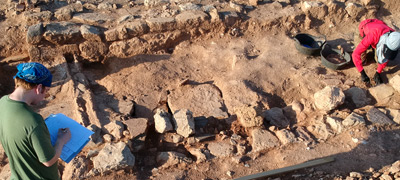 For those ones considering a career in archaeology, it may help you make a decision on which areas to specialize, in which types of excavations you can work, and how you can trace your career experiences for success.

Online course platform
Participants enrolled in this online course will be given a link to access the platform into which this program is hosted. Here, video-lectures, activities and forums can be accessed. This is a collective platform where you will be able to share ideas and questions with your lecturer and other participants of the program. The lecturer will be often online, and you can contact him/her for any questions you have.
Duration
This online course has a duration of seven days from the beginning of the session. During this time, you can watch the video-lectures and do the activities proposed at your own pace, but we recommend you do one thematic per day (there are 5 thematics). It is designed so that the student spend approximately one hour per day watching the video-lectures and performing the activities suggested for each thematic. Within this week you will have to watch all videos provided and participate in all activities suggested in order to obtain your certificate. If you do not complete all video-lectures and activities, you won't be able to receive your certificate.

Language
The course is taught in English.

Certificate
At the end if this online course, students will receive a certificate of participation stating the thematics approached and activities performed. If students do not participate in ALL video-lectures and activities proposed, won't be able to receive the certificate.
---
Sanisera Archaeology Institute
Do you need help?

In Sanisera Archaeology Institute we will help you choose the best field program for you. Fill in our advice form without any obligation. In less than 48 hours we will contact you


Why choose us?


10 reasons to participate in our international summer courses.