Directed at
The archaeological expedition of Dubai is not a simple adventure to recover artifacts of great artistic value.
This project is organized as an archaeological mission and its main objective is to plan an intensive excavation of the site to gather as much information as possible in a relatively short time, aspiring to achieve outstanding scientific results in the short term.
If you are a motivated candidate who wants to experiment with your hands on a dig and wish to cooperate as volunteer in an international team, this project is for you.

If you want to gain knowledge in the general areas of anthropology or archeology, or even introduce you to the world of the Near East Archaeology, participating in this expedition can help greatly to acquire a degree of advanced knowledge in research that will serve to guide you in the direction where you have to focus your expertise and develop your academic work.
If you are interested in gaining experience in full-time field work and maximum concentration, and also want the technical direction of the scientific team to assign you responsibilities and specific tasks as if you were a member of the technical team, this intervention may interest you.

Participating in this archaeological mission will enrich your personal curriculum and can form you as a real candidate for archaeological positions in a professional level.
The excavation of the site of Saroup Al-Hadeed is a collaborative project with other archaeological research teams coming from the local government of Dubai and specialized international universities in Near East Archaeology. During your stay in the excavation campaign you will interact with them and will share moments and situations that will enrich your experience and academic knowledge.
Personal attitude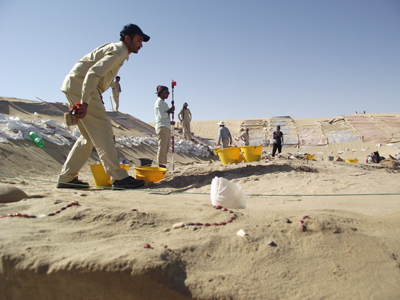 Analyze yourself for a moment and think if you can get, you want or you have the following qualities to face your stay away from home, working in scientific tasks that you are not used to:
Open spirit and mind to respect the culture, tradition, religion, customs and cuisine of the country to which you will travel and stay for a while, in this case Dubai.


Be patient and take a cordial and friendly attitude with the rest of your excavation team mates with which you are going to live with and share a long time without judging their condition, degree of knowledge or personality.


Absolute collaboration for any unexpected task you can be assigned for.


Take responsibilities when it is required by the team.


Be aware that you are part of a team as an active member that integrates volunteer staff, scientific technical section and logistics and maintenance assistants. We all have a task and each of us wants the excavation to have excellent results and success.


No one is used to live in a desert. You should be aware that it is an adverse landscape, but with dedication, patience, energy and enthusiasm it is possible to dig adopting health and safety measures to avoid unnecessary risks.
Living in the expedition
As long as the weather conditions do allow it, the schedule of excavation will be organized in five consecutive working days per week with an interval of two days for rest: Fridays and Saturdays.
During rest days we will have vehicles to move to the city of Dubai and surroundings to enjoy leisure activities, museums, etc.
The time for the excavation and processing of materials in the laboratory will be eight hours per day.
The volunteer's stay in Dubai is 88 days. There are one stablished sessions (see Session, dates & Deadlines).
Accommodation is free. It is located in a large newly built residential building belonging to the government of Dubai and it is very near the site (short walking distance). The Building has excellent, comfortable and convenient conditions to stay, differentiated by sex bedrooms (max. 4 people per room), bathroom, dining room and living room, kitchen and others as a laboratory. It has air conditioning and internet.
The meals consist of breakfast, lunch and dinner. It is free and will be prepared by the logistics service that will also be in charge of the maintenance and cleaning.

In the excavation English, Arabic and Spanish are spoken.
Accident insurance is included. In case of illness, the Government of Dubai is responsible for the costs arising from this cause.
Certificates
At the end of the Expedition, volunteers will receive a certificate of participation stating the hours and activities. Participants that perform exceedingly well in the archaeological mission may receive a letter of recommendation from our organization upon request.
Sessions, dates & deadline
2017 Expedition
Sessions
Dates of the expedition
Deadline to apply
Final selection
Session #01
2017 | January 15th - April 13th
Closed
October 20th, 2016
Overview of the process
Phase #1 - Complete de the application form if you want to excavate as a volunteer . Please, take the deadlines into account depending on the dates in wich you wish to participate.
Phase #2 - Accepting applications. . If it's requierd, we would ask you for mor information about your academic profile.
Phase #3 - Final selection. . Two days after the final selection date we will notify the selected candidates obtaining the grant to participate in the expedition.

---
Sanisera Archaeology Institute
Do you need help?

In Sanisera Archaeology Institute we will help you choose the best field program for you. Fill in our advice form without any obligation. In less than 48 hours we will contact you


Why choose us?


10 reasons to participate in our international summer courses.