RESEARCH > Accidental findings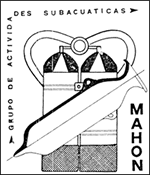 In the decade of 1950 the Association of Oceanographic Studies and Underwater Archaeological Recoveries was founded in Ciutadella (Menorca), Mascaró Pasarius being one of its promoters. This body carried out various immersions by breath-holding along the Menorcan coast, with limited resources and always prospecting a shallow area of the seabed close to the coastline1. One of those surveys was undertaken in the port of Sanitja, and Mascaró Pasarius informed about the findings located in that area in one of his publications dealing with the Archaeological Chart of Menorca.2
However, the first archaeological materials recovered from the mouth of the port of Sanitja started to be known in 1974. Two Maritime centers, in Mahón and Es Castell, donated a collection of pieces to the Museum of Menorca, consisting of four Roman amphorae necks which were produced in the North African region of Bizacena and dating from the late Empire period. Two of them presented the stamps LEPMI BSCD and TEP/LOP. In all probability, these large amphorae came from the ports of Hadrumentum and Leptis Minor transporting oil. Moreover, three amphorae were also found in the Pas de Sanitja, two of them presenting the typology punic Maña B and the third one being a Dressel 2-33. Besides, fragments of amphorae tips were classified, which could present the typology Dressel 26 with a cylindrical shape belonging to the late Empire period. In addition to this, fragments of Betic amphorae were also detected.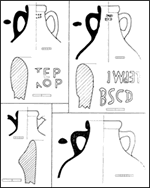 Later on, in 1977, the first data was published derived from the observation and the analysis of the structures and materials that could be seen on the surface around the port of Sanitja: "se pone de manifiesto que ha sido poblado en periodos antiguos, desde el siglo II a.C. hasta el siglo IV d.C., dándose la circunstancia de que estos testimonios aparecen agrupados en zonas determinadas, de tal forma que se puede adivinar el núcleo más antiguo, situado sobre una cima, cerca de la bocana del puerto de Sanitja, a la derecha del pequeño torrente que desemboca al mar, mirando al norte. En ese lugar se localizan las cerámicas más antiguas, así como fragmentos de campaniense A, ánforas grecoitálicas y republicanas, cerámica ibérica, talayotica, etc, además de algunos tramos de muros ciclópeos. Por otro lado, en el lado izquierdo del torrente se puede contemplar gran cantidad de fragmentos de sigilatas de todos los tipos y procedencias, con una buena representación de las sigilatas claras (siglos II-IV) y t.s. estampadas, así como fragmentos de tegulae, etc. Además de esto, en zonas más apartados de estos dos núcleos principales –sobre todo del segundo- muy removido por los trabajos agrícolas, se pueden ver los cimientos de alguna casa romana y parte de una necrópolis, algunas de las cuales pueden aportar algún día cuando sean excavadas con metodología científica, datos de gran importancia. Personalmente, ante todo esto, no nos quedan muchas dudas para plantearnos que en el puerto de Sanitja pueden aparecer algún día los restos de la Sanisera citada por Plinio" (Nicolas, J.C.: "Notas de actualización de los capítulos I y II correspondientes a Prehistoria Y Protohistoria" en Historia de Menorca, tomo I. De los orígenes al final de la Edad Media" de Mª Luisa Serra, 1977, pp. 120).
---
(1) Nicolas, J.C.: "Arqueología submarina en Menorca", 1974, pp. 448.


(2) Mascaró Pasarius, J.: "Monumentos prehistóricos y protohistóricos de la isla de Menorca", Dirección General de Bellas Artes. 1967.

(3)Nicolas, J.C. :"Ánforas africanas del Bajo Imperio en Sanitja (Mercadal, Menorca)", Menorca Subacuática, nº 3, pp. 14.