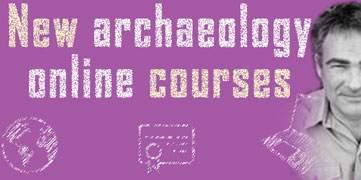 The Sanisera Archaeology Institute for International Field Schools started in 1996 as a school for students who wanted to be trained in archaeological fieldwork. It started providing excavation activities through the Roman port of Sanisera (Menorca, Balearic Islands, Spain), and in 2004, due to the continuing success of its archaeological courses, the Field School became an international reference for students worldwide.
Year after year, our Archaeological Field School expanded its courses to offer students the opportunity to work and discover renown Classical history sites in different countries, where they can carry out their practices focused on specialized fields of Archaeology.
In May 2020, amidst the covid-19 pandemic outbreak, and due to the impossibility of opening its excavation sites the Sanisera Archaeology Institute for International Field Schools started preparing a number of online courses to continue providing archaeological educational programs.

Giving this, to face the new challenges that lie ahead, our institution is looking for archaeologists and specialists of related thematics, such as bioarchaeology, art, history, conservation, heritage management, GIS, 3D modelling, photography or illustration of archaeological remains, and many more, who wish to collaborate with us as online teachers in this new online project.

If you are interested send us your curriculum and the topic you would like to teach, so your expertise can be evaluated. There is no limit for what you can teach. Go ahead and send us your idea.

Sanisera Archaeology Institute
Do you need help?

In Sanisera Archaeology Institute we will help you choose the best field program for you. Fill in our advice form without any obligation. In less than 48 hours we will contact you


Why choose us?


10 reasons to participate in our international summer courses.