The Sanisera Archaeology Institute started in 1996 as a school for university students who wanted to be trained in archaeological fieldwork through the excavation of the Roman portuary city of Sanisera (Menorca, Balearic Islands, Spain).
In 2004, due to the continuing success of its archaeological courses, the Field School became an international reference center and started giving its courses in English for students coming from, in most of the cases, Anglo-Saxon Universities, with programs in Archaeology and Anthropology, such as those from USA, Canada, Australia and United Kingdom.
We are an Archaeological Field School which, year after year, expands its courses by offering students the opportunity to work and discover renown sites which present Classical Archaeology from different countries, where they can carry out their practices focused on specialized fields of knowledge that are related to their University degrees.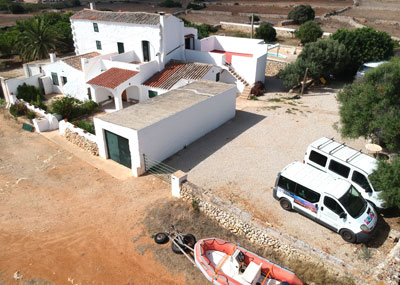 We are not only in Spain, but we also have courses in France, UK, Italy and Germany. We offer students more than 15 courses that can enrich their CVs, validate university credits and get recommendation letters to enter the job market or get into prestigious scientific research centers.
We have always supported the education of young students by creating work-based learning courses that can help them to acquire professional and soft skills. As a novelty this year, we are collaborating with several european colleges in order to develop school-work alternance programs that can increase the workplace skills of young students as much as their employment opportunities in the future.

Our work is focused on
The archaeological study of ancient cities
Anthropology, Osteology and Digging graves
Conservation in archaeology
Art and Museums
Excavate shipwrecks and submerged cities of ancient ports in the underwater school in archaeology
How to make a movie
Learning GIS Software for archaeologists
Discovering the most important monuments from Ancient civilizations such as Athens and Rome
School-work alternance programs
---
COURSES IN ARCHAEOLOGICAL TOUR, ART & MUSEUMS CATEGORY ( 4 )
More info
003 Dig in the Roman City of Sanisera (Spain) & Explore Archaeology in Rome and Pompeii (Italy)
More info
030 Dig in the Roman City of Sanisera (Spain) and Discover Paris and The Louvre Museum (France)
More info
033 Discover archaeology in The British Museum (London,UK) and Dig in the Roman City of Sanisera (Spain)
---
More info
044 Discover the Museums in Berlin & Dig in the Roman City of Sanisera
---
Sanisera Archaeology Institute
Do you need help?

In Sanisera Archaeology Institute we will help you choose the best field program for you. Fill in our advice form without any obligation. In less than 48 hours we will contact you


Why choose us?


10 reasons to participate in our international summer courses.