In May 2020, amidst the covid-19 pandemic outbreak, the Sanisera Archaeology Institute for International Field Schools started preparing a number of online courses to continue provide archaeological educational programs, despite the impossibility of opening its excavation sites.

For many years students came to study abroad in its many excavation programs, and now they will be able to do it from the comfort of their homes as well. We recommend this online course to anyone interested in archaeology, anthropology or history, from any age or walks of life. Nonetheless, we believe is crucial to anyone considering a career in archaeology, as it studies the perks and quirks of the profession.
---
100. Be an Archaeologist in the 21st century.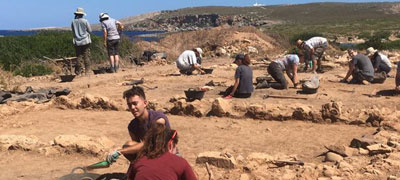 Have you ever wonder how you can become an archaeologist? How Archaeology really works in the 21st century? Than this is the perfect online course for you. Be an archaeologist in the 21st century does not mean to become Indiana Jones or Lara Croft – is much more than that, and in this course we will show you what you can do become a true archaeologist
General Information What you will learn Useful Information Staff Session & Cost
---
Sanisera Archaeology Institute
Do you need help?

In Sanisera Archaeology Institute we will help you choose the best field program for you. Fill in our advice form without any obligation. In less than 48 hours we will contact you


Why choose us?


10 reasons to participate in our international summer courses.